10 Free Student Sailings with P&O Ferries from Larne to Cairnryan to be won!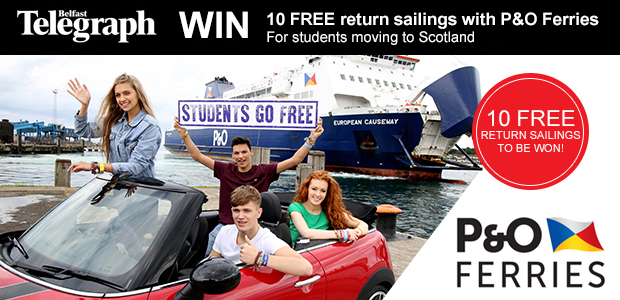 This form is now expired. Thank you to all those who have submitted files.
P&O Ferries — the UK's largest ferry operator — and the Belfast Telegraph are helping students to celebrate their A-Level results ... by giving away 10 FREE return sailings to Scotland to help with their move across the water for college or university this autumn.
And for those starting university, or those who are returning students for the new term, entering the competition couldn't be easier! With no baggage restrictions, students can pack lots of home comforts into the boot of their car for their free crossing — ready to create their new home away from home.
Neal Mernock, sector director Irish Sea, P&O Ferries, says: "P&O Ferries is delighted to offer 10 free sailings for students, whether they're going onto higher education for the first time, or returning to university, or college, for the new term. "After all their hard work, P&O Ferries wants to congratulate and reward students during this exciting time. "With the shortest and most frequent crossings between Northern Ireland and Scotland, P&O Ferries is looking forward to welcoming students on-board this autumn."

Once on-board, students can relax on their two-hour crossing from Larne to Cairnryan by connecting their tablets, iPads and smartphones to the free wi-fi available throughout the sailing. The restaurant offers freshly-prepared meals, vegetarian options and tasty snacks so students can enjoy a meal before arriving at their student halls, or accommodation.
To be in with a chance of winning a return sailing from Larne to Cairnryan for a car and one passenger only simply complete the entry form below and asnwer the question.
Terms & Conditions
Standard INM T&Cs apply.
Additional P&O T&Cs include:
Each prize includes a return sailing from Larne to Cairnryan for a car and one passenger only.
All travel must be taken by December 16, 2016.
Prize can only be used for Larne/Cairnryan bookings.
Bookings will be subject to restricted space, sailings and dates
Students ID, or acceptance letter, will be required to accept prize.
Prize cannot be used in conjunction with any other offer
Bookings must be made a minimum of two calendar days prior to travel and cannot be amended within two calendar days of travel
Other Terms and conditions may apply.
See poferries.com for details