Win one of 6 pairs of tickets to Live at the Waterfront! On 22 October
Closing Date: :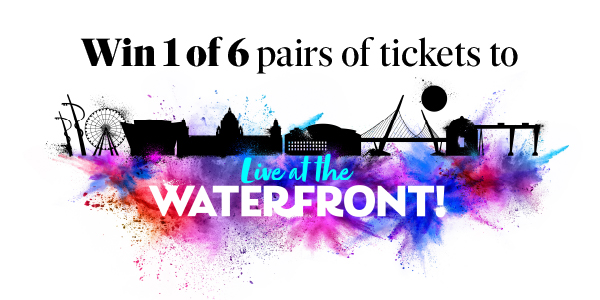 We are offering six lucky winners a pair of money-can't-buy tickets to "Live at the Waterfront" on Friday 22nd October. Featuring some of Northern Ireland's finest singer-songwriters, musicians, actors and comedians, the concert's dynamic line-up is a celebration of extraordinary artistic talent and features well-known artists, including:
Ash, Beoga, Cara Dillion, Foy Vance, JC Stewert, Jordan Adetunji, ROE, Ryan McMullan, Soak
May McFettridge, Micky Bartlett, Paddy Raff, Tim McGarry
Abigail McGibbon, Brid Brennan, Glenn Patterson, Ian McElhinney, Neil Martin, NI Opera
To be in with a chance of winning, simply answer the following question and complete your details:
Terms & Conditions
Terms and conditions
General terms and conditions apply and can be viewed at:
https://www.belfasttelegraph.co.uk/service/competition-terms-and-conditions-40846501.html
Competition specific T&Cs
1. A strict limit of 2 tickets per person applies (the eligible competition winner and one guest). Any tickets applied for over this limit may be cancelled and invalidated.
2. Competition winners' details including name, phone number and email address will be held for 30 days by the Waterfront Hall for purposes of Track and Trace.
3. Your guest must be with you at time of entry.
4. ID in the ticket holder's name will be required.
5. Under 16s must be accompanied by an adult.
6. As a requirement of the venue, both winner and guest will be required to complete a COVID Status Check on arrival at the venue in order to gain admission. Failure to be able to produce the required certification will result in entry to The Waterfront Hall being refused. Further information on this can be found here: https://www.waterfront.co.uk/visit/covid-status-check/All ticket holders aged 18 and over will need to prove their Covid status in one of the following ways:
Proof of full vaccination - both doses received (A full 14 days must have passed since the final dose of COVID-19 vaccine was received)
Proof of a negative Lateral Flow Test taken no more than 24 hours prior to attending the event
Proof of natural immunity shown by a positive PCR test result for COVID-19, lasting for 180 days after the date of the positive test and following completion of the self-isolation period
7. This ticket has no monetary value. You may not sell or offer to sell tickets for this event.
8. Any tickets allocated, sold or offered for sale in breach of these special conditions may be cancelled and invalidated.
9. In the event of any inconsistency between these special conditions and any other applicable terms and conditions, these special conditions will apply.
10. All data will be deleted within 30 days of winners being notified.